19:05
11/27/2021
Այսօր 7...2





Նորություններ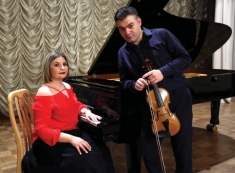 THE UNISON DUET
2017-10-12 15:02
«Դե Ֆակտո » N 135 (08/2017թ.)
The Unison Duet was born as a result of collaboration of two young and enthusiastic musicians (the pianist, Shushan Hakobyan and violinist, Ruben Aghiyan, in 2014 in LA. Well-established musicians with years of concert performance experience, they had been working as music teachers as well and were extremely dedicated to the cause of raising a young generation of promising musicians. They tried playing at small events together just to discover they could cooperate in unison with a great success. Thus, the Unison Duet was established, and, since then, it has been carrying ultimate joy and satisfaction to music fans of various ages and backgrounds.
Shushan Hakobyan, pianist, received both Masters and Doctorate degrees in music at the Komitas State Conservatory in Armenia. She was one of the leading soloists of the Armenian State Philharmonic and a founding member of the SHELL Armenia State Philharmonic Trio. She has given recitals in USA, Canada, Austria, France, Italy, Lebanon, Russia, and Ukraine. Shushan is a recipient of multiple awards. She is also a successful and inspiring piano instructor with more than 13 years of teaching experience who currently teaches music at the Russian Music Center and in her private studio. She is a member of Tuesday Musicale in Pasadena and is a sought out accompanist and soloist in Southern California.
Ruben Aghiyan, composer specializing in performing arts (violin) and production
(music, events) received his BA and MA degrees from the Rachmaninoff Sate Music Conservatory in Russia. He has taken part in numerous national and international competitions and won prestigious awards on various stages. Ruben's background includes broad experience as a performing musician, composer, instrumentation specialist/ arranger as well as violin instructor in private and group settings.Ruben's recent interests includes violin instruction to children of an early age, studying contemporary music production techniques, organizing practical workshops, and giving master-class style lessons to aspiring musicians and graduate students majoring in music. Ruben has chosen the Russian Music Center in Temple City, Los Angeles to search, discover, and work with talented youth. He mastered his post-graduate level of music production techniques at UCLA. Ruben is a proud member of the Armenian-American Theatrical & Musical Society, City Chamber of Commerce, and a frequent guest as a performing artist at the events organized by the Western Diocese of the Armenian Apostolic Church and the Armenian-American Chamber of Commerce. He has recently become a member of National Association of Composers/USA.
The Unison Duet performs in different parts of LA and abroad. One of the activities of the duo is organization of a wide range of music events – solo and chamber concerts, theme evenings, fundraisers and much more. In the summer of 2016 the duo did a charitable concert tour in Armenia to help the needy families of Armenian soldiers. The duo's creative union takes multiple dimensions. One of them is the composer-performer collaboration, where Ruben acts as a professional composer and Shushan as a performer of his works. The Unison also effectively collaborates with other musicians by inviting them to their projects and thus transforming the duo into trio and quartet. Shushan and Ruben have recently become honorable members of NACUSA (National Association of Music) as a performer and composer/violinist respectively. As talented and inspiring music and composition instructors, Shushan Hakobyan and Ruben Aghiyan also offer high-quality lessons in piano, violin and composition to students of all ages (children of 2 and up) that are going to take place in their newly opened studio. Possessing its own unique manner and style, Unison Duet is bringing to life the gems of classic music, as well as introducing talented contemporary pieces to the audience. These two highly charismatic musicians will help you discover the new vision of the classic and appreciate its beauty. The Unison Duet is young, vigorous and open to collaboration with other musicians, ready to run new exciting projects, organize important events and help you appreciate the beauty of music.
Վերադառնալ
Պահոց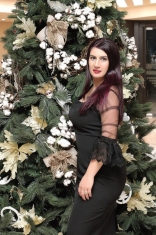 ՍԵԴԱ ԳԱՍՊԱՐՅԱՆ
2020-01-08 11:18
ՍԵԴԱ ԳԱՍՊԱՐՅԱՆ «Դե Ֆակտո» ամսագրի գլխավոր խմբագրի պաշտոնակատար...